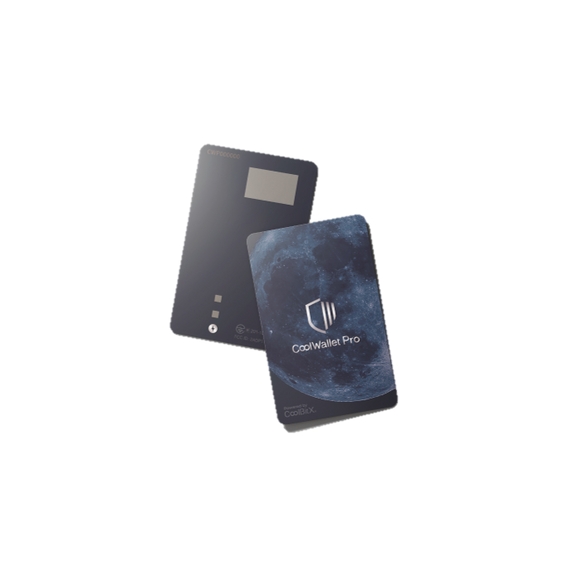 CoolWallet PRO: The World's Most Convenient Bluetooth Hardware Wallet | BT-MINERS
| Period | /Day | /Month | /Year |
| --- | --- | --- | --- |
| Income | | | |
| Electricity | | | |
| Profit | | | |
LTC&DOGE

Network Hashrate
TH/s
$
Weekly Electricity Bill
Description
CoolWallet PRO Description
CoolWallet Pro is the solution for advanced crypto users who are constantly looking for interesting crypto-projects and state-of-the-art protection. Especially suitable if you want to participate in various Staking, Dapps and NFT opportunities, you do not want to miss out on the CoolWallet Pro. The CoolWallet Pro already supports Polkadot (DOT), Cosmos (ATOM), Tron (TRX) and Kusama (KSM) and is constantly developing more exciting integrations!
Technical Specifications
Dimension
Credit card size 85.6(L) x 53.98(H) x 0.8(T)mm
Compatibility
Compatible with smartphones: Android 6+, or iPhone 5/ iOS 12.1+
Safety and Certification
CoolWallet is CE and RoHS certified, also we meet the following certifications:
NCC- CCAF22LP0650T3 (model: CWS)
Microcontrollers
CC EAL 6+
Box Content
[1] CoolWallet Pro
[1] Charging dock
[1] MircoUSB Cable
[2] Seed recovery cards
Material
Contains a Lithium-ion rechargeable battery
Volt: 3V / Capacity: 15mAh
Maximizing Battery Life and Lifespan
– Contact Charging: 2 hours to full charge
– Battery Life: Regular Use (~2 Transactions per day) roughly 2 weeks
– Standby Time: 3 months
– You are recommended to fully charge the device once per month for better battery life.
What Are the Differences Between CoolWallet S & CoolWallet Pro? 
The CoolWallet Pro version not only inherited the mobility and security aspects of the CoolWallet S, but we went a step further and upgraded the secure element chipset from CC EAL 5+ to an even more secure CC EAL 6+ standard and added an enhanced memory module that allows integrations with more coins. In addition to the hardware upgrade, new Staking, Defi, Dapps and NFT in-app features have been included as well.