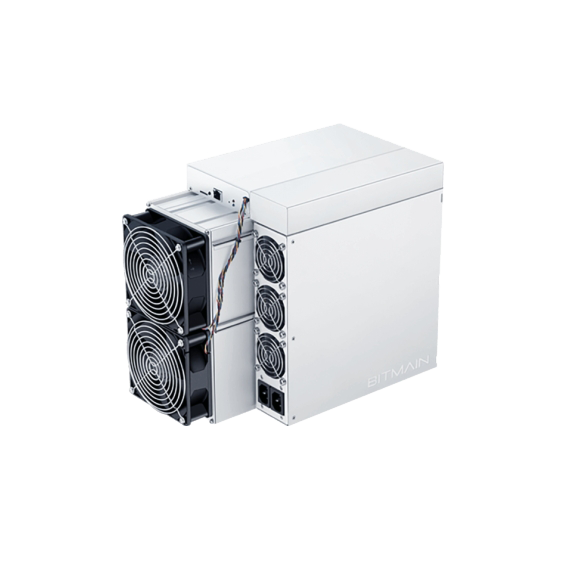 Bitmain Antminer S19 Pro 110TH/s Bitcoin Miner with Power Supply | BT-MINERS
Description
Antminer S19 Pro 110T Description
Antminer S19 Pro (110Th) from Bitmain mining SHA-256 algorithm with a maximum hashrate of 110Th/s for a power consumption of 3250W. It is able to mine Bitcoin (BTC– along with BSV, BCH, ABC and LTC). This unit requires a double 220v power socket using a single 2-pole 20-amp circuit breaker.
Specifications
| | |
| --- | --- |
| Hashrate | TH/s 110 ± 3% |
| Power on wall 25°C | 3250W ± 5% |
| Power efficiency on wall 25°C | 25.5J/TH ± 5% |
| Power supply AC Input voltage | 200~240V |
| Power supply AC Input Frequency Range | 47Hz~63Hz |
| Power supply AC Input current | Amp  20 |
| Networking connection mode | RJ45 Ethernet 10/100M |
| Miner Size (w/o package) | 370mm*195.5mm*290mm |
| Miner Size (with package) | 570mm*316mm*430mm |
| Net weight | 13.2kg |
| Gross weight | 15.2kg |
| Operation temperature | 0°C~40°C |
| Storage temperature | -20°C~70°C |
| Operation humidity(non-condensing) | 10~90%RH |
| Operation altitude | ≤2000m |
NOTE
To prevent the spread of virus in the firmware, which can cause damage to the Antminer S19 series, the setting function of "Secure Boot" has been switched on and the "Root Authority" function has been disabled.
If the user fails to use the product in accordance with the given instructions, specifications, and conditions provided, or change the function setting without Bitmain's prior consent, Bitmain will not be liable for any damage arising therefrom.
(1-1) Caution: Wrong input voltage may probably cause miner damaged
(1-2)Max condition: temperature 40°C, altitude 0m
(1-3) Two AC input wires, 10A per wire
(2-1)​​​​Including PSU size
(2-2) Including PSU weight
(3-1) When the miner is used at an altitude from 900m to 2000m, the highest operating temperature dec
Minable coins










Processing&Shipping Time
Payment Policies
Taxes and Custom Duties
Processing&Shipping Time
All shipments will go out by UPS or DHL.
We offer DDP for deliveries to US.
For deliveries to Canada, UK, and Australia, we can reimburse the duty tax paid with valid receipt. Please note that if the couriers ask for documentations, please let us know right away so we can prepare the proper paperwork.
For regions outside of US, Canada, UK, or Australia, contact us for any requests regarding shipping, duty declaration, or customs documentation.
Our product are excluded of all value added taxes and customs duties sold by BT-Miners. You will be solely responsible for paying any outstanding taxes and duties as per your country's law and customs. Client will be responsible for additional shipping charges if items are returned to sender.
Contact us at store@bt-miners.com or 813-820-0668 if you have any questions.
Payment Policies
Taxes and Custom Duties