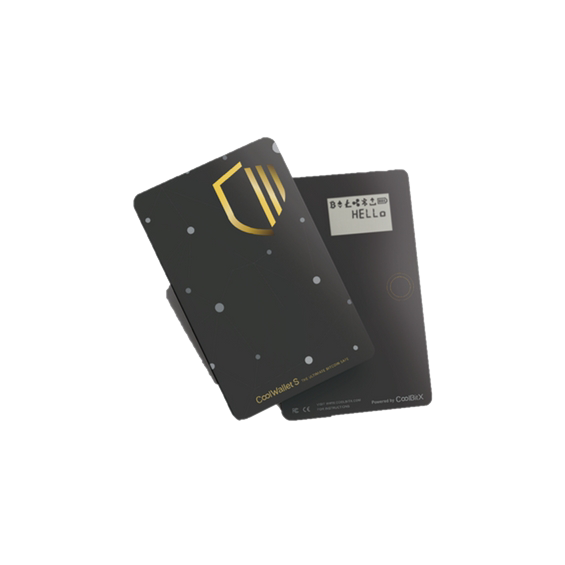 CoolWallet S: The Original CoolWallet S for Crypto-on-the go | BT-MINERS
Description
CoolWallet S Description
Credit Card Sized Portability. Bendable, water resistant and tamper-proof for extra durability. The thinnest and most stylish cold wallet in the world. CC EAL5+ certified Secure Element chip. Multiple cryptocurrency support that's constantly updated. Simple and direct Marketplace trading features.
Technical Specifications
Dimension
Credit card size 85.6(L) x 53.98(H) x 0.8(T)mm
Compatibility
Compatible with smartphones: Android 6+, or iPhone 5/ iOS 12.1+
Safety and Certification
CoolWallet is CE and RoHS certified, also we meet the following certifications:
NCC- CCAF22LP0650T3 (model: CWS)
Microcontrollers
CC EAL 5+
Box Content
[1] CoolWallet S / [2] CoolWallet S
[1] Charging dock
[1] MircoUSB Cable
[2] Seed recovery cards
Material
Contains a Lithium-ion rechargeable battery
Volt: 3V / Capacity: 15mAh
Maximizing Battery Life and Lifespan
– Contact Charging: 2 hours to full charge
– Battery Life: Regular Use (~2 Transactions per day) roughly 2 weeks
– Standby Time: 3 months
– You are recommended to fully charge the device once per month for better battery life.
Processing&Shipping Time
Payment Policies
Taxes and Custom Duties
Processing&Shipping Time
All shipments will go out by UPS or DHL.
We offer DDP for deliveries to US.
For deliveries to Canada, UK, and Australia, we can reimburse the duty tax paid with valid receipt. Please note that if the couriers ask for documentations, please let us know right away so we can prepare the proper paperwork.
For regions outside of US, Canada, UK, or Australia, contact us for any requests regarding shipping, duty declaration, or customs documentation.
Our product are excluded of all value added taxes and customs duties sold by BT-Miners. You will be solely responsible for paying any outstanding taxes and duties as per your country's law and customs. Client will be responsible for additional shipping charges if items are returned to sender.
Contact us at store@bt-miners.com or 813-820-0668 if you have any questions.
Payment Policies
Taxes and Custom Duties