BTC Back Above $41,000 as Crypto Bulls Return
After recent losses, BTC rallied on Tuesday as bulls appeared to have returned to the crypto markets. Alongside Bitcoin, ETH also moved away from yesterday's low below $2,900, with the price now hovering around $3,100.
Bitcoin
After several days of bearish pressure, cryptocurrency prices finally recovered on Tuesday, with BTC climbing back above $41,000. The world's largest cryptocurrency surged fivefold in today's session, hitting an intraday high of $41,146.89. The price surge comes after Monday's low of $39,123.16, the lowest BTC/USD traded since March 15.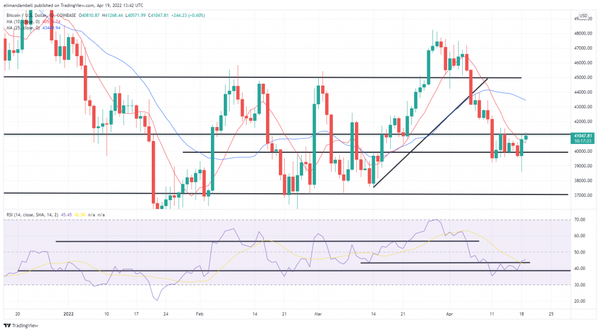 At the time of writing, BTC is currently trading at $40,926.77, which is slightly below previous highs and comes as traders took profits on resistance. Looking at the chart, that high sits at $41.175, which stopped the last three sustained breakout attempts. Although prices have failed to break out, price strength has increased with the 14-day RSI trading just above the 44 resistance, which could bode well for bulls attempting to hold the price pressures today.
Ethereum
ETH was also trading higher on Tuesday, breaking away from its multi-week lows during today's rally. At the time of writing, ETH/USD hit an intraday high of $3,080.79 earlier in today's session, which is around 4% higher than yesterday's low. Monday's low of $2,903.24 fell below the long-term low of $2,950 to hit its lowest level since March 22.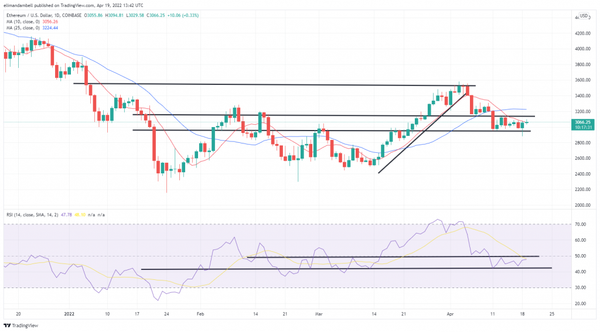 Despite today's rally, the 14-day RSI is still trading below its 50 high and is currently hovering around 47.50. This is good news for the bulls; Momentum to clear both this point and the 49 RSI level, we could see ETH heading towards $3,300.